Talk to a YouTube expert right away and get started!
Fill out the form and get in touch with our experts in a jiffy!
Over 7+ Years of Experience in Rich Media

Affordable YouTube Monetization Packages
YouTube Monetization Process
Channel Audit & Analysis Report
Content & Design Creation
Organic Marketing
Applying for Monetization
Videoprocient banks on hassle-free YouTube monetization project management that is agile, effectual, and collaborative. Our YouTube experts make sure that your channel gets monetized quickly and continues to grow at the same pace.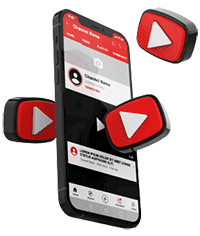 Why Us?
Because We Are The Industry Leaders!
Our legacy speaks volumes for us. Having worked with over 1000+ YouTubers at this point, our team grasps the channel idea, topics, and content tone within nanoseconds. Be it creating new videos from scratch or promoting your existing videos, we'll make sure to get you in front of your targeted audience! So, what are you waiting for? Let's get started and build your dream YouTube channel!
Have A Quick Chat With Our Experts And You'll Know What We're Talking About